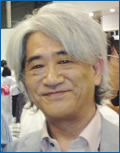 On behalf of the organizing committee, I am delighted to invite you to the International Conference on Molecular Simulation (ICMS 2013) to be held in Kobe, Japan on November 18-20, 2013. 
This is the third time International Conference on Molecular Simulation, following the first (Fukui, 1994) and second (Tsukuba, 2004) ones, held under the auspices of the Molecular Simulation Society of Japan, RIKEN Advanced Institute for Computational Science, and Computational Materials Science Initiative (CMSI). Without expecting for ten years regularity, we have decided to hold the third triggered by starting the K-computer operation at Port-Island in Kobe.  Such an extremely large-scale parallel super-computer is believed to break fresh ground for not only numerical simulation but also logical operation for large complicate network systems.  Molecular simulation could be also stimulated into an unexplored stage of more realistic and more reliable investigations by accomplishing the present situation.  Molecular simulation has been started by the important historical study on dynamic nature of condensed system described by hypothetical inter-particle potential.  Following this, it has been progressed through developing the theories of statistic thermodynamic conditions and the stable time integration methods, and extended its applicable research-fields by constructing the reliable systematic force-fields.  Nowadays, we could ordinary find results of realistic large-scale molecular simulation using reliable conditions, especially having accurate force-field derived from and/or cooperated with quantum-mechanical electronic-state calculations.  Simultaneously, theories to calculate grand canonical systems, energy dissipation with thermal bath, several types of fluctuations, coarse-grained/hierarchical models, etc. have been proposed and studied.  Several model potentials are also introduced for investigations of extended systems including that of social group dynamics. 
The Molecular Simulation Society of Japan was founded at 1997 based on the Annual Meeting of Molecular Simulation in Japan, which was started at 1987 in Kyoto.  The administration of this annual meeting has been succeeded by the Molecular Simulation Society of Japan, and the recent number of presentations and participants has been over hundred and two hundreds, respectively.  We are proud to keep holding opportunities for successful and fruitful discussions and for introductions of their original works by young scientists every year.  We are now delighted to have more evolutional opportunity for making discussions world widely.
Kobe is one of famous historical places in Japan, for example as a scene of The Tale of Genji, an older capital in Japan (Fukuhara capital of very short life), one of the oldest vital international trading port except for the period of isolation politics (the Edo period), etc.  You could find a lot of historical spots rambling in Kobe.  The location of Kobe is wedged in between the coast and the mountains.  The seacoast faces to the Seto Inland Sea in which various marine products are largely caught.  Mount Rokkō overlooks Kobe.  During the autumn season, it is famous for the rich change in colors of its forests.  Behind Mount Rokkō, there is one of the famous hot springs in Japan, named Arima-Onsen, in the north side of Kobe, with beautiful natural surroundings and yet easy access from the central part.  Against these rich natural backgrounds, Kobe is also famous for its Kobe beef and Japanese Sake brewing industry.  Most Sake brewers provide tours of traditional Sake making process and Sake tasting. 
The ICMS 2013 would be held also as the 27-th annual meeting of molecular simulation in Japan, and we expect it could be more exciting by cooperation with participants from the world.  We look forward to the pleasure of welcoming you at the ICMS 2013 in Kobe.  We hope that this conference would provide delegates from wide area in the world with an opportunity for valuable scientific discussions, initiating new research connections and friendships as well as enjoying the culture and the nature of Kobe and its neighboring places.