Nov.18 (Mon.) -20 (Wed.), 2013
Venue : Kobe Int'l Conference Center
Organizer:The Molecular Simulation Society of Japan
Chair: Prof. Shiaki Hyodo (University of Hyogo , Japan)
Acknowledgements of participation. 
Thanks to the contribution of all participants, the ICMS2013 was closed successfully on November 20, 2013.  The speakers of the plenary and invited lectures gave us fundamental and up-to-date knowledge on an extensive area of molecular simulation.  The 175 posters have been presented at the first afternoon session on each three day and all contributors had improving comments and discussions.  The coffee breaks and the Banquet were effective to improve the mutual understandings and construct a strong basis of the collaboration and friendship for each participant. 
We started planning the next international conference, which is likely held within three years or so.  We hope to see you again soon. 
We declare the sincere appreciation to all of the participants, exhibitors and staff members.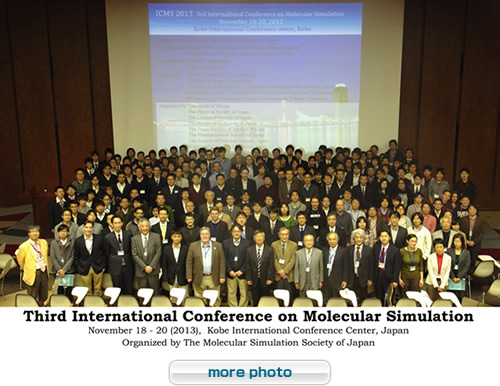 Abstract Submission: Aug 31 (Sat), 2013 Sep 15 (Sun), 2013


* The deadline for Abstract Submission has been extended.

Early-Bird Registration: Sep 15 (Sun), 2013

RIKEN Advanced Institute for Computational Science
Computational Materials Science Initiative (CMSI)

ASICS Corporation
JSOL Corporation

Tsutomu Nakauchi Foundation
'Campus Asia Program: A Cooperative Asian Education Gateway for a Sustainable Society: Expanding the Frontiers in Science and Technology of Chemistry and Materials', Nagoya University & Tohoku University

University of Hyogo
The Physical Society of Japan
The Chemical Society of Japan
The Biophysical Society of Japan
The Japan Society of Applied Physics
The Pharmaceutical Society of Japan
The Society of Polymer Science, Japan
Society of Computer Chemistry, Japan

Satellite Meeting of ICMS2013 in Nagoya:

Large-Scale Molecular Simulations in Biology, Chemistry, and Physics.
At ES Bldg. of Nagoya University on Nov 16. The meeting program is here.

"Workshop on Molecular Simulations of Biophysics and Biochemistry" is scheduled as a satellite on Nov 21 (Thurs), 2013 at RIKEN AICS.
Visit http://www.riken.jp/TMS2012/tms/misc/ws_biophysbiochem_2013/index.html for details.

"Molecular Simulation of Liquids and Interfaces" is scheduled as a satellite on Nov 22 (Fri), 2013 at Tohoku University, Sendai. The meeting program is here.

2013/10/24

Scientific Program was updated.

2013/08/27

The deadline for Abstract submission has been extended until September 15.

2013/08/12

Presentation Instruction has been updated.

2013/06/24

Registration and Abstract submission has been started.

2013/06/24

Plenary&Invited Speakers has been updated.

2013/02/01

Scientific Program has been updated.

2012/12/03

The Organizing Committee has been uploaded.

2012/12/01

Established the website of the Conference.