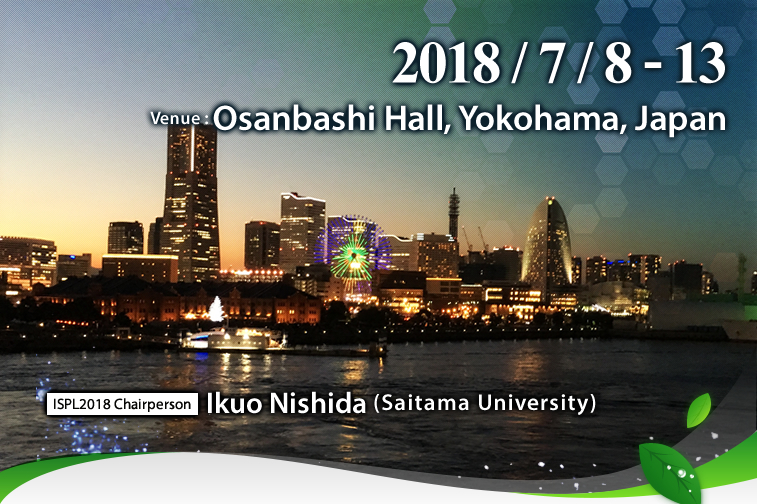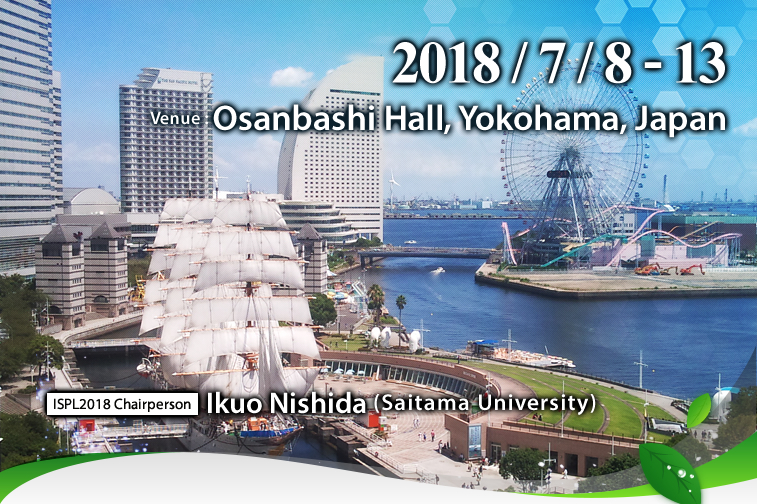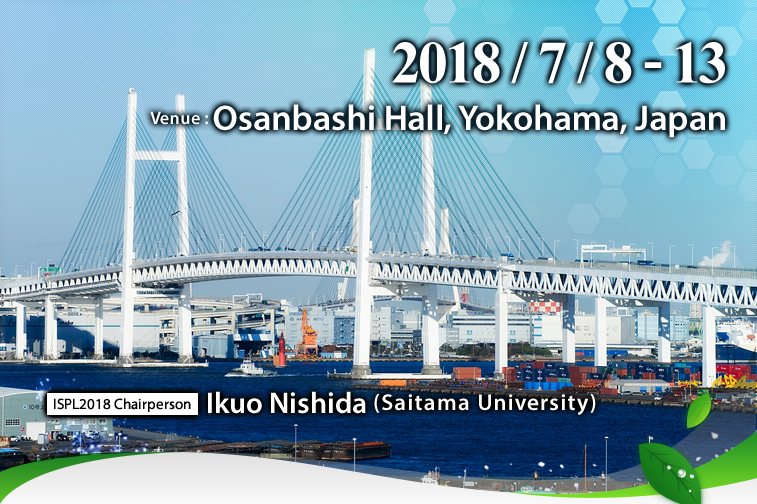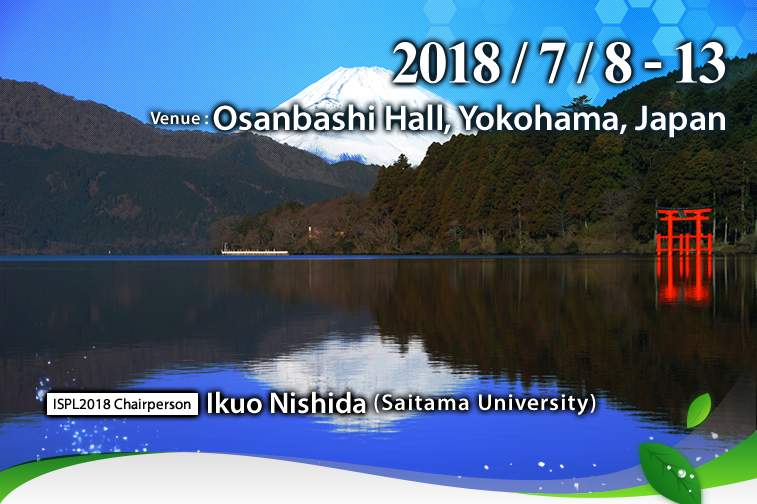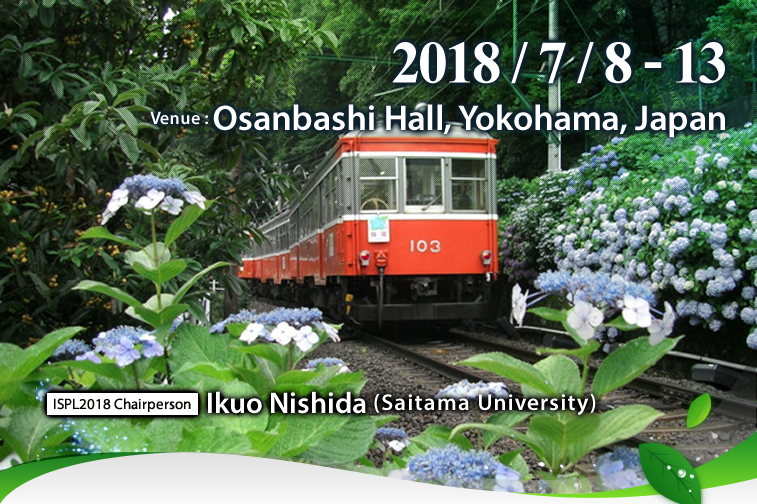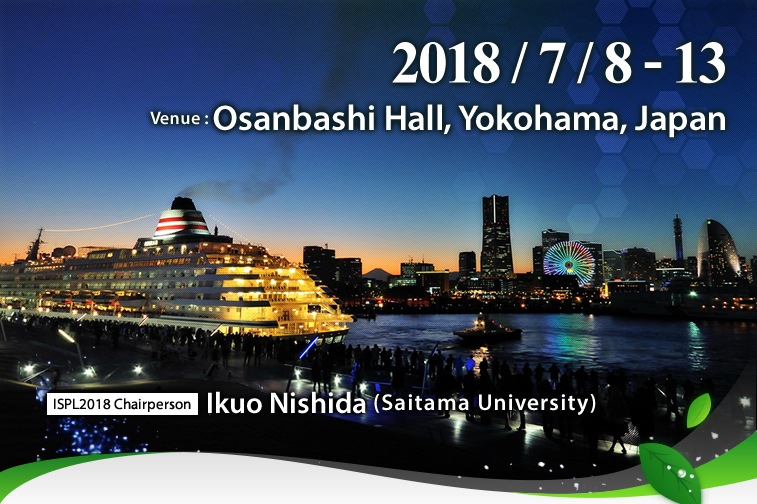 2018 / 7 / 8 - 13
Venue : Osanbashi Hall
Chair person: Ikuo Nishida(Saitama University)

Greeting
Dear All,
The 23rd International Symposium on Plant Lipids (ISPL2018) will be held from 8 to 13 July 2018 at Osanbashi Hall in Yokohama, Japan. On behalf of the organizing committee members of ISPL2018, I would like to invite all of you to attend the symposium and present and discuss your latest achievements in plant and algal lipid researches. The symposium is programed not only to call for oral and poster presentations in basic and applied aspects, but also to invite prominent researchers for plenary lectures, in order to provide delegates with updated knowledge. One of the major outcomes of this symposium is to stimulate discussions and collaborations between researchers toward understanding of the fundamental processes of lipid functions and biogenesis and its application to agricultural and industrial usages of plant and algal lipids in future.
Having been held biennially since 1974, this is the second organization of ISPL in Japan since the 15th ISPL was held in Okazaki under the leadership of Prof. Norio Murata at the National Institute for Basic Biology in 2002.
Yokohama city is proud of its modern and historical activities as an international trade port. Back in 1 July 1859 (2 June in Luna calendar), five years after the abolition of our national seclusion lasting over 200 years since 1639, Yokohama port was first opened for foreign trade. Since then, Yokohama port has been developed to become the third place in trade money ranking 2011 in Japan and witnessed 130 thousands of inbound/ outbound international passengers and clues, respectively, in 2015. Actually, a conference venue, Osanbashi Hall, is one of the facilities of International Passenger Terminal (https://osanbashi.jp/english/), whose interior produces a classical atmosphere of a main hold in a gigantic sailboat. The city center is facing to Tokyo bay and filled with both modern and historical architectures. I hope all delegates of ISPL2018 enjoy a voyage with us to the frontier of plant and algal lipid researches.

With our warmest welcomes,
Ikuo Nishida
Chairperson
ISPL2018 Organizing committee
Professor at Saitama University
Symposium Themes
General purpose of this conference is to provide an opportunity to meet and discuss cutting edge researches on plant lipids, and contribute advancement of this research area.
Secretariat
Secretary General
Hiroyuki Ohta
School of Life Science and Technology
Tokyo Institute of Technology
4259-B65 Nagatsuta-cho, Midori-Ku, Yokohama 226-8501, Japan
TEL:+81-45-924-5527 FAX:+81-45-924-5527
E-mail:ispl2018-secretariat@lipid.bio.titech.ac.jp
Official Agent
Nippon Travel Agency CO., LTD.
Yokohama Sales Office

Nissei Yokohama Onoecho Bldg. 4F 6-81, Onoecho, Naka-ku, Yokohama-City, Kanagawa 231-0015 Japan
Tel: +81-45-641-9604 Fax: +81-45-651-0072
E-mail: ispl2018_registration@nta.co.jp