The 51st Japanese Occupational Therapy Congress & Expo
Chairman -- Masayoshi Kobayashi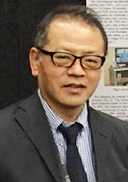 Fifty years have passed since the birth of occupational therapists in Japan. During this time it has developed and spread mainly in the area of medical care under the national health insurance system. However, it is not only hospitals where occupational therapists are needed, and nowadays their range of activities has expanded to areas such as long-term health care, disabled welfare, special needs education, and employment support. With the aging population, it is also necessary to help prevent the loss of mental and physical function in healthy elderly people, in addition to helping those with disabilities. Attention must be paid the life functions of the people we deal with, and the role of occupational therapists in promoting activity and participation is becoming even more important.
In particular, the pressing issues that must be addressed by occupational therapists in each community and prefecture include participation in support teams for early-stage dementia, as well as support for integrated community care including home care and collaborative care. We must demonstrate that occupational therapy can contribute to both the recovery and maintenance of people's health, while sharing knowledge and technologies for solving problems.
In order to further develop the potential for occupational therapy over the next 50 years while taking into account the demands of our times, the theme we have chosen for this year's 51st Japanese Occupational Therapy Congress & Expo is, "Challenges of Occupational Therapy: Theory and practice for responding to diverse needs."
We have arranged a large number of presentations for this congress. In addition to clinical research to verify the effectiveness of occupational therapy, these include research to clarify the work needs of people in the community, qualitative case studies to explore the meaning and value of work, evaluations of occupational therapy, and research and development of assistive technologies. We look forward to a fulfilling academic conference.